By Natalia Perez
---
Spirited (2022)

Ryan Reynolds and Will Ferrell visited a Central Mass. staple to bring Christmas to July. Mechanics Hall served as the backdrop for the two stars' latest endeavor called "Spirited," a musical version of the ever-classic "A Christmas Carol" during which Reynolds will play a Scrooge-like representation and Ferrell will depict the Ghost of Christmas Present. 
The movie is expected to release on AppleTV+ in 2022. 
Don't Look Up (2021)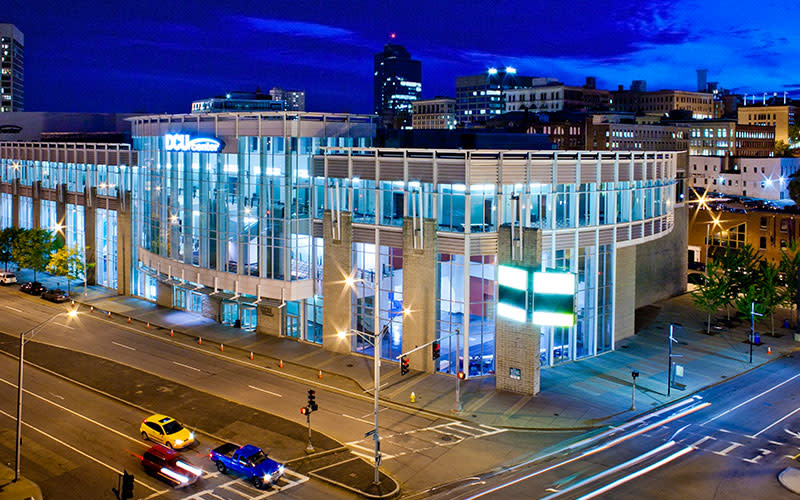 The DCU Center in Worcester, MA
A key scene of Netflix's "Don't Look Up," an upcoming American political satire disaster comedy starring America's beloved three-time-Oscar-winner Meryl Streep along with Leonardo Dicaprio, Jennifer Lawrence, and two-time Oscar winner Kate Blanchett, was filmed in the DCU Center in December 2020.  
Netflix rented the arena for four days, and the DCU center had 75 of its own employees, including security, housekeepers and stagehands, work on production. 
The DCU center, typically hosting events, concerts, family shows, sporting events, conventions, and meetings, was used as a "rally in an arena environment" for Streep's scene, according to DCU Center General Manager Sandy Dunn. The scene involved 150 extras. According to the Telegram and Gazette, DiCaprio and Lawrence play star-crossed astronomers that discover a devastating meteor is on a collision course with earth. 
According to IMDb, Streep plays President Janie Orlean, who shrugs off the warnings and spreads "fake news" to her rabid fan base about the severity of the impending impact.
Next time you're around the DCU area, here's an itinerary to make the best of your day exploring downtown Worcester. 
---
Free Guy (2021)
Starring Ryan Reynolds, parts of "Free Guy" were filmed in and around Brew on the Grid, and at Portland and Franklin streets across from Worcester Common. 
The scenes filmed in Worcester included set-up explosions, fake gunshots, and a bus marked "Free Bus System." Portland street was lined with fast cars with "Free City" license plates for their scenes shot on Franklin street. The cast and crew also used several storefronts along the street for equipment, makeup and other related production work. 
In the open world video game Free City,  Guy (Reynolds) is the leading man playing a non-player character (NPC) working as a bank teller. Thanks to a program developed by programmers Milly (Comer) and Keys (Keery) inserted into Free City by the publisher Antoine (Waititi), Guy becomes aware of his world being a video game, and takes steps to make himself the hero, creating a race against time to save the game before the developers can shut it down.
While you're in the area, you have to check out these two new establishments (especially if you're into video games): Free Play Bar and Pixels and Pints Arcade Bar. 
---
Wonder Drug (2021)
Written by Worcester writer and public school teacher Caitlin McCarthy, "Wonder Drug" features the quiet neighborhood and houses on Blue Bell Road and Burncoat Street.
"This will be my first produced, future screenplay and what better way to bring it to life than here in my hometown," McCarthy tells Spectrum News 1. "Especially with the pandemic taking place, I am thinking of all the businesses that could really benefit from having a production here. I would love to give back to the community that has given me so much." 
McCarthy's screenplay, produced by Rhino films, tells the jarring story of the side effects of a drug known as DES, a drug given to pregnant women decades ago, in an effort to raise awareness about the topic. Shooting for the movie starts in 2021.
When you venture on Burncoat Street, or nearby West Boylston Street, make sure to treat yourself to Quinn's Irish Pub or at the Eggroll Lady, who was featured on Phantom Gourmet and NESN's Wicked Bites. 
---

Dexter: New Blood (2021)
A Showtime revival series for the well-known serial killer "Dexter" puts Massachusetts at the forefront of the first trailer for "Dexter: New Blood" (2021). The production crew filmed primarily west of I-495 in towns like Boylston, Devens, Gardner, Lancaster, Sterling, West Boylston and Worcester—in notable spots like the Tantiusques hiking area in Sturbridge and in small neighborhods in Worcester, turning the sunny 70 degree days into a winter wonderland. 
---
Honest Thief (2020)
In the fall of 2019, "Taken" star and Oscar and Golden Globe-nominated actor Liam Neeson and a film crew shot several scenes in Worcester: at the AC Mariott hotel, City Square, Federal Square, Main Street in front of deadhorse hill, and the 200 Block of Commerical Street, among others.
Filmmakers staged a car crash in the Salisbury and Lancaster streets in Worcester, and scenes were also shot in Oxford, Fitchburg, Leicester and Boston. 
Directed by Mark Williams, "Honest Thief" casts Neeson as a bank robber who tries to go straight, yet realizes that federal agents are more corrupt than he ever was. 
---
Christmas on Ice (2020)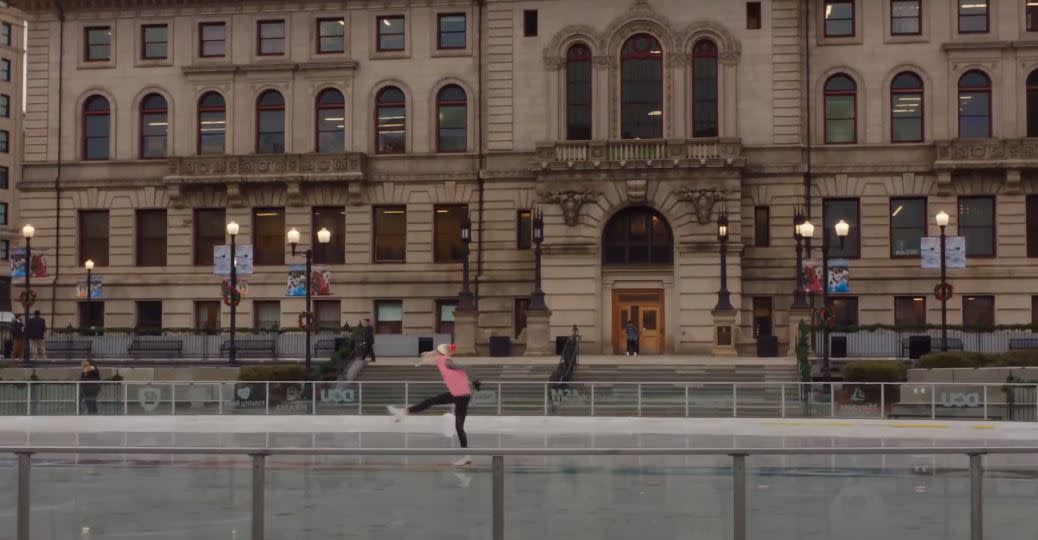 Worcester City Hall and the Common Oval Ice Rink feature prominently in the Christmas on Ice trailer
Don't we just love Lifetime Christmas movies? Worcester seems to be the perfect setting, as "Christmas on Ice" was filmed Downtown at Worcester Common Oval, City Hall, and at Fidelity Bank Worcester Ice Center and BirchTree Bread Co. in the Canal District.
"Christmas on Ice" tells the story of Courtney Bennett (Abigail Klein), a former U.S. figure skating hopeful, as she runs her city's public skating rink—until the Mayor (Will Lyman) announces it's closing. Determined to save it, heartbroken Courtney enlists the help of a professional hockey player (Ryan Cooper), and of course, we know how the rest goes. 
---
Films at Worcester Regional Airport

Worcester Regional Airport in "Knight and Day"
Starring Tom Cruise and Cameron Diaz, the opening scene of "Knight and Day" (2010) was filmed right at the Worcester Regional Airport, which was made to be Wichita, Kansas in the movie. 
Knight and Day is a 2010 American action comedy film directed by James Mangold, and was the second on-screen collaboration of Cruise and Diaz, following the 2001 film Vanilla Sky. Diaz plays June Havens, a classic car restorer who unwittingly gets caught up with the eccentric secret agent Roy Miller, played by Cruise, who is on the run from the CIA.
Another popular flick filmed in parts at the local airport is Ava, a thriller starring Jessica Chastain, which involves a female assassin traveling the world whose job goes dangerously wrong. 
You'll catch this Central Mass. staple in the first few moments of the film, posing as what was once Paris' principal plane space in Le Bourget, France—where Ava picks up the next target on her kill list.
A movie based primarily in Shelburne Falls, Mass. also used Worcester Regional as a backdrop for scenes. The drama/comedy "The Judge" (2014) stars Robert Downey Jr. and Robert Duvall, during which the production crew worked their magic and turned small-town Massachusetts into small-town Indiana. 
Before your next flight out of the Worcester Regional Airport, grab some delicious brunch from Livia's Dish or a Puerto Rican meal from Nuestra.  
---
Films at Worcester Art Museum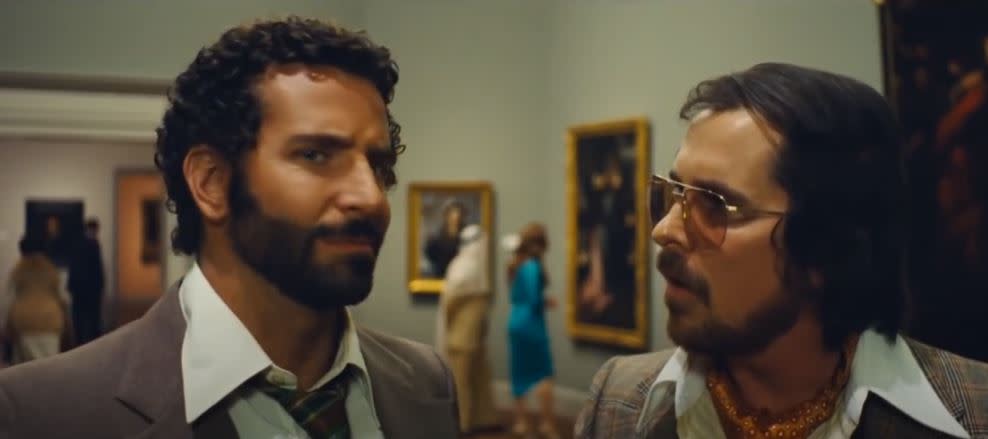 Worcester Art Museum was the perfect setting for this shot in "American Hustle"
"American Hustle" gave Worcester a taste of Hollywood through a flurry of celebrity sightings, bringing new energy to the city. Starring Christian Bale, Amy Adams, Bradley Cooper, Jeremy Renner and Jennifer Lawrence. Scenes were filmed at Nick's Bar and Restaurant on Millbury Street, Union Station and the Worcester Art Museum. 
Directed by David O. Russell, the film follows up his last movie, "Silver Linings Playbook," as Irving Rosenfeld (Christian Bale) dabbles in forgery and loan-sharking, but things change in a big way when he falls for fellow grifter Sydney Prosser (Amy Adams). 
Caught by FBI agent Richie DiMaso (Bradley Cooper), Irving and Sydney are forced to work under cover as part of DiMaso's sting operation to nail a New Jersey mayor (Jeremy Renner). Meanwhile, Irving's jealous wife (Jennifer Lawrence) will potentially tear everything apart. The movie is based on the 1970s Abscam case and was nominated for 10 Academy Awards. 
Another flick that used WAM as a star of the show: "The Maiden Heist" (2009)—a crime comedy film involving three museum security guards that devise a plan to steal the artworks they've grown so attached to. This one flaunts big names like Christopher Walken Morgan Freeman and William H. Macy.
---

Films on Main Street Worcester
"Surrogates" (2009), starring Bruce Willis. Filmed in the old Central District Court building (now luxury apartments) and the former Boys' Vocational High School on the north end of Main Street. 
Another big name to grace Main Street: "Black Panther 2" (2022). The highly-anticipated sequel to the 2018 Disney production filmed scenes in Worcester this past August. 
---
More Films in Downtown Worcester
"Tumbledown" (2016): A romantic comedy with scenes on Grove Street and at Worcester State University 
"Julia" (upcoming): HBO TV series based on the life of Julia Child with scenes in Downtown Worcester 
"The Tender Bar" (2021): George Clooney's adaptation of journalist J.R. Moehringer's memoir with Downtown Worcester as the backdrop
"We Don't Belong Here" (2017): A drama film about a dysfunctional family whose son goes missing, starring names like Catherine Keener, Kaitlyn Dever, Molly Shannon and Maya Rudolph  
---
There's More to Discover
Central MA, especially Worcester, has earned a reputation of being eager to cooperate and collaborate, making it an even more attractive filming destination. You can go on this scavenger hunt easily by using the Discover Central MA App & Itinerary here. 
Looking for more adventures? Check out this list of scenic destinations and mysterious and unique places in Central MA!